Tuolumne Meadows Winter Conditions Update for December 21, 2021
Posted by: Laura and Rob Pilewski
New Snow: 75 inches
Settled Snow Depth: 36 inches
High temperature: 40°F (December 18)
Low temperature: -10°F (December 15)
Ski Conditions and Weather
This is our first post of the 2021-22 winter season. When we started work on December 5 here in Tuolumne Meadows, the ground was mostly bare. This was the driest we have seen it for this time of year since our first winter of 2011-12. Thankfully, Mother Nature decided to turn on winter in earnest shortly after our arrival. Several winter storms, highlighted by a potent atmospheric river event on December 13-15, have blanketed the Sierra Nevada in its white winter coat. For those of us who have witnessed the climate change impacts of drought and catastrophic wildfires over the past several years, the arrival of snow is a sight for sore eyes even if only ephemeral. Let's hope the winter trend continues along this path.
Since the new wet snow fell on mostly bare ground and gradually the temperatures became colder and the snow drier as the storm(s) progressed, it was the perfect recipe for a good solid ski base. Presently, the ski conditions are good, though the trail breaking is still a bit arduous. Coverage is uniform on all except windswept aspects. The more solar aspects have a thin sun crust on them presently. There is more snow in the forecast and visitors should always be prepared for changing conditions.

Wind and Snow Sculpted Lembert Dome on December 15, 2021
Avalanche and Snowpack Conditions
Please refer to the
Eastern Sierra Avalanche Center
(ESAC) for the avalanche advisory for this part of the Sierra Nevada.
The avalanche hazard has run full circle from "none" (no snow) to "high" (in particular on slopes above 9,000 feet, which have buried faceted snow from October) back to "low." There were several breaks during the most recent series of storms that revealed large R3D2 avalanches on north northeast facing aspects on Altusky (Unicorn Peak) and in more rocky terrain within the trees at approximately 9,500 feet elevation. These all appeared to have failed on the old snow. Wind slab avalanches were also observed and somewhat widespread along ridges in the Cathedral Range. The majority of avalanche activity, however, probably went unseen and was most likely obliterated with the gale force winds of these storms.

Altusky and Unicorn Peak Avalanches on December 15, 2021
As of this writing, due to a warm clear window of weather, the snowpack has become more stable and although the depth hoar persists, it has not been as reactive to snow stability tests. That may change yet again once weighted with the new and/or blowing snow that is forecast through this weekend.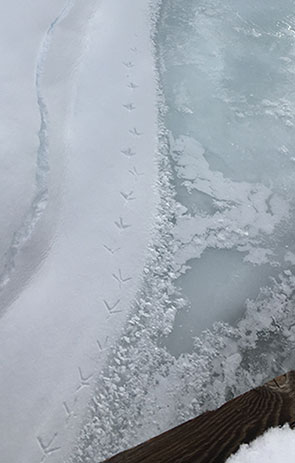 Great Blue Heron tracks at Twin Bridges on December 20th, 2021.
Wildlife
Last weekend was perfect weather for people to flock together in the great out of doors for the Christmas Bird Count (CBC)
which started way back in 1900
! Although we didn't participate formally, we did observe mountain chickadees, red crossbills, Clark's nutcrackers, common ravens, brown creepers, and pine siskins. The most unique sighting, however, was the tracks of the great blue heron underneath Twin Bridges. It was probably taking advantage of the open running water, which is also a bit unusual at this elevation at this time of year. We surmise the latter may be attributed to the rain and warm temperatures of late October-November.
Questions
The wilderness is open! But, especially during this pandemic where local resources may be limited, we implore you to be self-sufficient and not put others at risk. Please
#RecreateResponsibly
by planning and preparing thoroughly for your outdoor activities in the park. Read through the following two pages before embarking on any day or overnight snow travel within this park:
You may contact us with any additional winter Tuolumne Meadows related questions.
Happy Winter!
Laura and Rob Pilewski - Tuolumne Meadows winter rangers
Edited 1 time(s). Last edit at 12/23/2021 07:33PM by FatFlatlander.