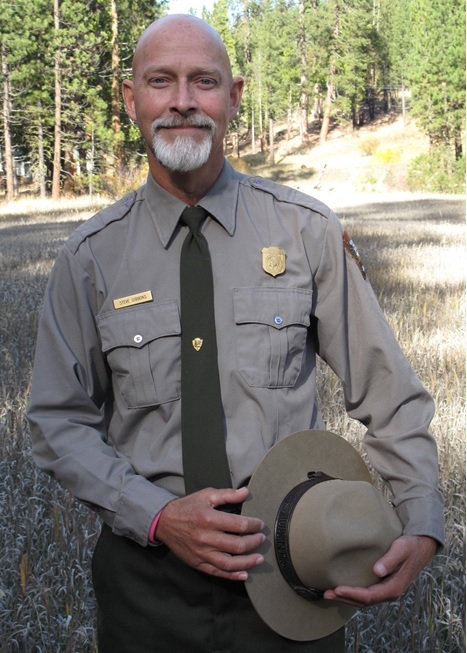 Steve Gibbons
NPS Photo
SAN FRANCISCO –Steve Gibbons has been selected as the next superintendent at Lassen Volcanic National Park, after serving as acting superintendent at the park for the past four months. He will begin his new role in early May.
"Steve has been outstanding as interim superintendent at Lassen Volcanic," stated Regional Director Chris Lehnertz."Now with him moving into the superintendent position permanently, we all look forward to his continued strong leadership there."
Over the last several years Gibbons has gained invaluable experience serving as acting superintendent at numerous parks in the region, including the National Park of American Samoa;War in the Pacific National Historical Park in Guam;American Memorial Park in the Commonwealth of the Northern Mariana Islands; Kaloko-Honokohau, Pu'uhonua O Honaunau, and Kalaupapa National Historical Parks in Hawaiʻi; and San Juan Island and Klondike Gold Rush National Historical Parks in Washington state.
Gibbons began his career with NPS as a seasonal hydrologic technician at Everglades National Park shortly after graduating from the University of Miami with a Bachelor of Arts degree in geography. This was followed by various assignments at Mount Rainier National Park, Cape Cod National Seashore, and fifteen parks in the former Southwest Region.Most recently Gibbons has served as the coordinator for the National Natural Landmarks (NNL) program within the Park Service's Pacific West Region.During his tenure as the NNL coordinator the program has been strengthened through sustained collaborative relations with other state, federal, and private landowners.Major accomplishments include the addition of six new NNLs and the funding of thirty-five projects through the NPS Challenge Cost Share Program in excess of one million dollars.
"It is truly a privilege to accept this position as superintendent of Lassen Volcanic National Park," said Gibbons.Simply put, Lassen is a gem of a park, and one that embodies all the necessary ingredients of a world-renowned natural area.These include a bright, team-oriented staff;supportive and engaged park partners and stakeholders;committed gateway communities, and 106,452 acres of sheer scenic grandeur, including both cultural and geological curiosities and phenomenon.As Lassen and the National Park Service celebrate their respective centennials in 2016, I am excited about what the future holds for the park;I am equally honored to be a part of that future."
On a personal note Steve currently resides in Washington state and is married to Regina Rochefort, a Plant Ecologist/Science Advisor at North Cascades National Park.They have two sons: Shane is an architect in Boston, and Taylor is working on an advanced degree in fish genetics and environmental adaptation at the University of British Columbia in Vancouver, Canada.Besides the Seattle Seahawks, Steve's passions include family, friends, and the mission of the National Park Service.
In light of the National Park Service Centennial –and the park's own centennial –coming in August 2016, Lassen Volcanic has numerous activities planned for the celebration that summer. These include an inaugural campout at the new Volcano Adventure Camp, a Dark Sky Dinner Fundraiser Event and the official reopening of the Lassen Peak Trail, and then the culminating "Day in the Park" festival that will feature ranger programs, hikes, demonstrations, activities, and special guest presentations.