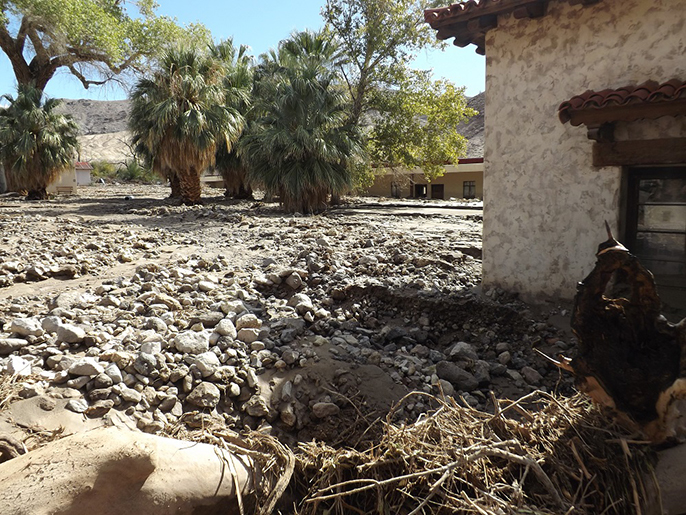 Death Valley, CA—On Sunday, October 18, 2015, a storm caused extensive flash flooding in the Scotty's Castle area in northern Death Valley National Park. Initial assessments on Monday revealed damage to roads, utilities and some historic structures.
Three park rangers spent Sunday night at Mesquite Springs Campground and Ubehebe Crater with approximately 20 park visitors who were unable to leave the area as flooding increased. After active flows ceased, park maintenance staff cleared a path for all visitors and park staff to safely evacuate by 1 pm Monday. Superintendent Mike Reynolds said, "We are very relieved to report there was no injury or loss of life in this major storm event."
National Park Service employees did an initial assessment of the Scotty's Castle area on Monday afternoon. Scotty's Castle, the main house in the Death Valley Scotty Historic District, does not appear to have been impacted by the flood.
The Garage/Longshed, which serves as the Scotty's Castle Visitor Center, was the building most impacted by the flood. The exterior of the building is surrounded by mud, rocks and other debris deposited by the flood. Approximately two feet of mud fills the interior of the building.
The Hacienda building interior ground floor is filled with approximately one foot of mud. The Cook House has a few inches of mud in it. The Stables has flood debris deposited against the exterior of the building. Superintendent Mike Reynolds said, "The National Park Service will be bringing in experts to help assess what work needs to be done to preserve this very special historic site."
Scotty's Castle was built in the 1920s as a vacation complex by Chicago millionaires Albert and Bessie Johnson. Albert Johnson first became interested in Death Valley because of Walter "Death Valley Scotty" Scott's efforts to recruit Johnson as an investor in his gold mine. By the time Johnson realized Scotty was a con man, the two men had become close friends.
Today Scotty's Castle is part of Death Valley National Park and is managed by the National Park Service. Scotty's Castle—and the surrounding Grapevine Canyon—are currently closed to park visitors. It is too early to have a clear estimate of when Scotty's Castle will reopen to public tours, but it is likely to be at least several months.
Scotty's Castle Road, also known as North Highway, was extensively damaged in Grapevine Canyon. The pavement surface has been washed away in places, with trenches up to 6 feet deep across the road.
Over twenty power poles were knocked down or damaged by the flood. The water treatment system was heavily damaged.