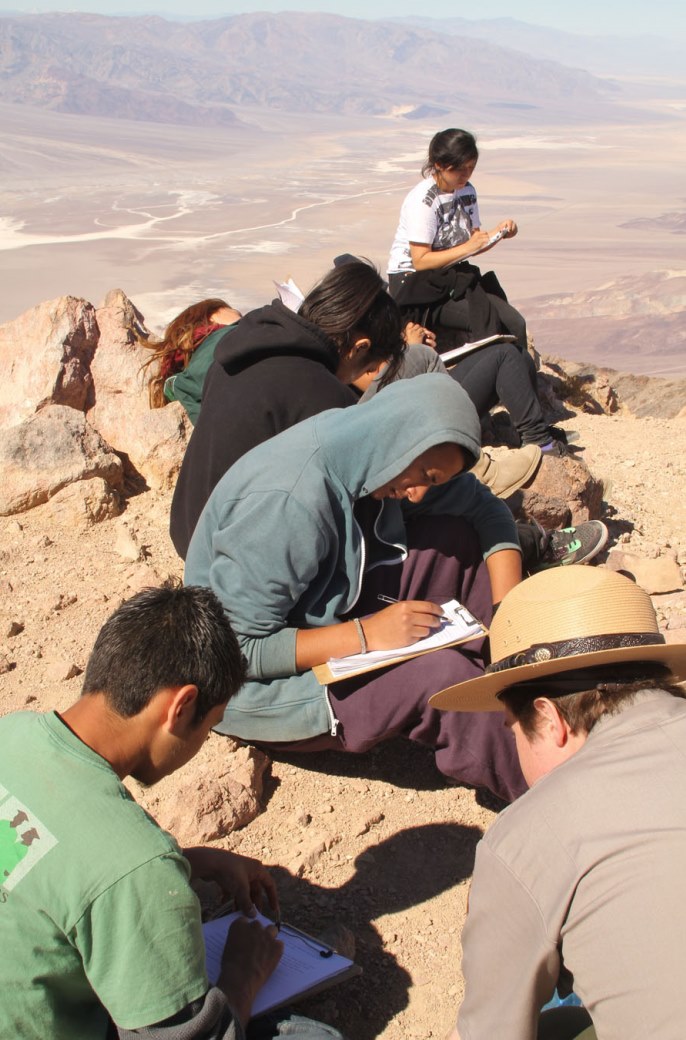 Students participate in a field trip activity with a park ranger.
NPS photo
DEATH VALLEY, CA— In celebration of the National Park Service's 100th birthday, Death Valley National Park and the Death Valley Natural History Association are offering transportation grants for school groups to participate in field trips in the park. This opportunity was made possible by generous donations from Death Valley National Park education program supporters, including the Branson Family Foundation.
"Death Valley Natural History Association is thrilled to be able to assist school groups in coming to Death Valley National Park," said David Blacker, executive director of the Death Valley Natural History Association, "Death Valley offers a unique learning opportunity and educators should not miss a chance to bring out their school groups."
Students can investigate life on the sand dunes, discover ancient landscapes in a canyon, study unique habitats, and explore the lowest point in North America. "This is an exciting opportunity to invite local students and teachers to celebrate the National Park Service Centennial by learning and exploring in the park as an outdoor classroom," said Mike Reynolds, Death Valley National Park superintendent, "We hope that the students' experiences connecting to Death Valley will inspire continued support of the national parks into the next 100 years."
These grants will help cover transportation costs and other expenses for school groups visiting in spring 2016. These grants are intended to assist students who may not otherwise have an opportunity to visit the park and schools that are limited by transportation and other costs to support a field trip to Death Valley National Park.
The field trip transportation grants are part of the nationwide Every Kid in a Park initiative. The Every Kid in a Park program also provides free admission to national parks and federal lands to all fourth-grade students and their families. Families of 4th-graders should visit
http://www.everykidinapark.gov
to apply for a free pass before they visit a national park.
Teachers and school administrators can request additional information about transportation grants, education programs, and the Every Kid in a Park initiative by contacting the Education Program Coordinator, Brandi Stewart, at 760-786-3285 or
Brandi_Stewart@nps.gov
.