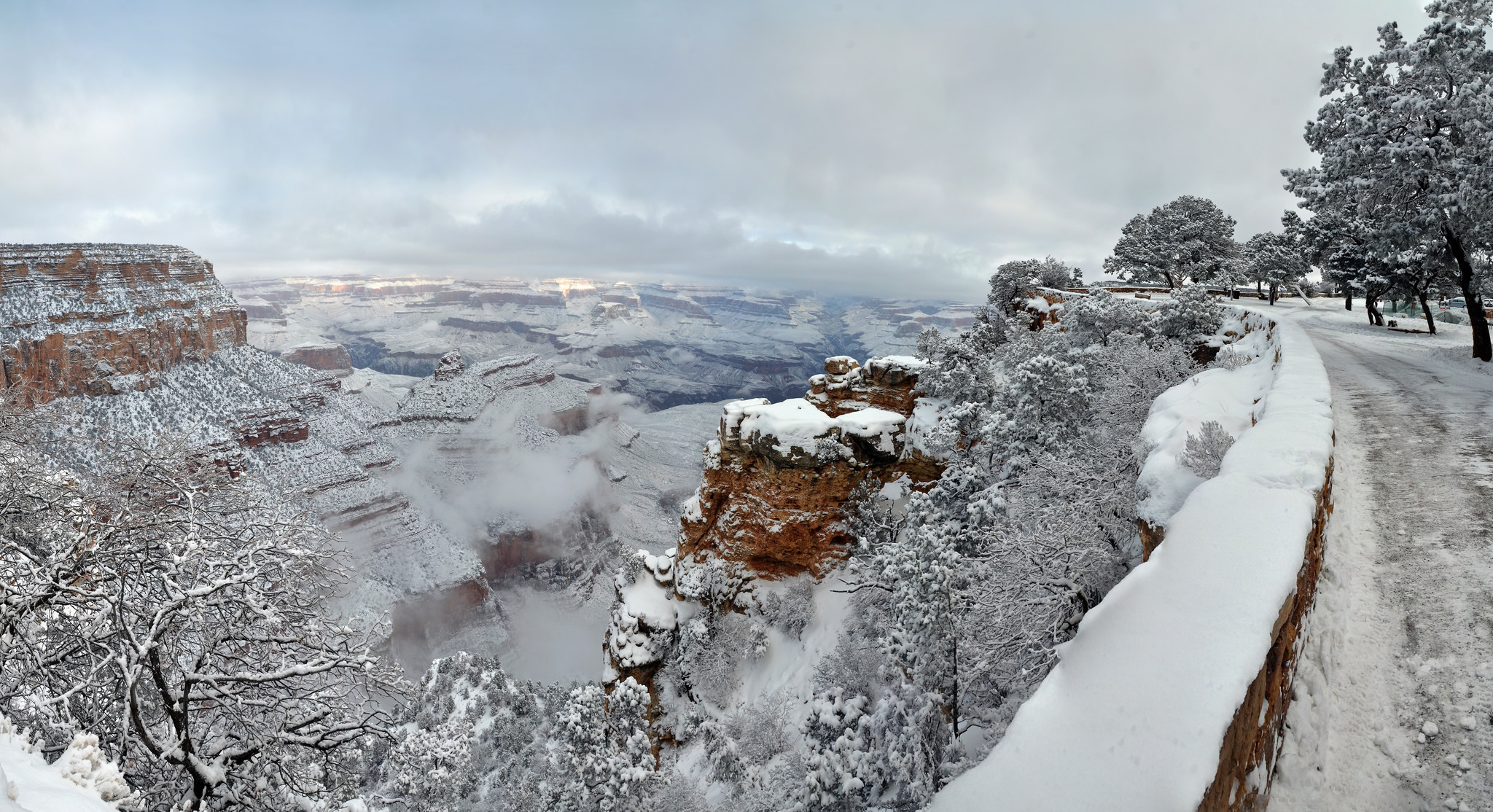 Grand Canyon, AZ
– Following a storm last weekend, and with a chance for more snow on Friday, visitors to Grand Canyon National Park should be prepared for snowpacked and icy roads. Visitors can expect temporary road closures and poor driving conditions whenever winter storms pass through the area.
The National Park Service, Arizona Department of Public Safety, and Coconino County Sheriff's Office recommend the following winter driving tips:
Take your time and be patient. Allow extra time to get to your destination.
For best traction, always slowly accelerate, decelerate, and turn slowly.
Increase the distance between you and the traffic ahead of you, allowing plenty of time to brake and steer around hazards.
Slow down. Posted speed limits are set for normal road and driving conditions. Snow and ice are not normal.
Keep emergency supplies such as blankets, flashlights, and snacks in your vehicle
For current road and weather information in Grand Canyon National Park, please call 928-638-7496. For road conditions across Arizona, visit
http://www.az511.gov
or dial 511.
Winter hikers at Grand Canyon should also prepare for cold temperatures, icy trails, and shorter daylight hours. NPS Preventive Search and Rescue rangers recommend over-the-shoe-traction devices, extra snacks, flashlights/headlamps, and layered clothing. For additional hiking tips and recommendations, visit
https://www.nps.gov/grca/planyourvisit/winter-recreation.htm
. Hikers should also be aware of seasonal water availability. Because of freezing temperatures, drinking water is available on the Bright Angel Trail at Indian Garden only. On the North Kaibab Trail, water is available at Manzanita Rest Area only. Water is also available at Phantom Ranch, Bright Angel Campground, and Boat Beach.
Visitation to Grand Canyon decreases in winter and starting December 1, Hermit Road is open to private vehicles, Mather Campground reverts to first-come, first-served, and Arizona Highway 67 to the North Rim is closed. During the holidays park rangers recommend arriving prior to 10 am to avoid holiday crowds. Park rangers also remind visitors that a warm, sunny day in Phoenix does not guarantee a nice day at the park–Grand Canyon averages 50 to 100 inches of snow per year and nighttime low temperatures can dip into the single digits. For reference, Cleveland, OH averages about 60 inches of snow per year. All visitors should bring along winter apparel, such as jackets, hats, and gloves. To help plan your Grand Canyon winter respite, visit
https://www.nps.gov/grca/planyourvisit/index.htm
.