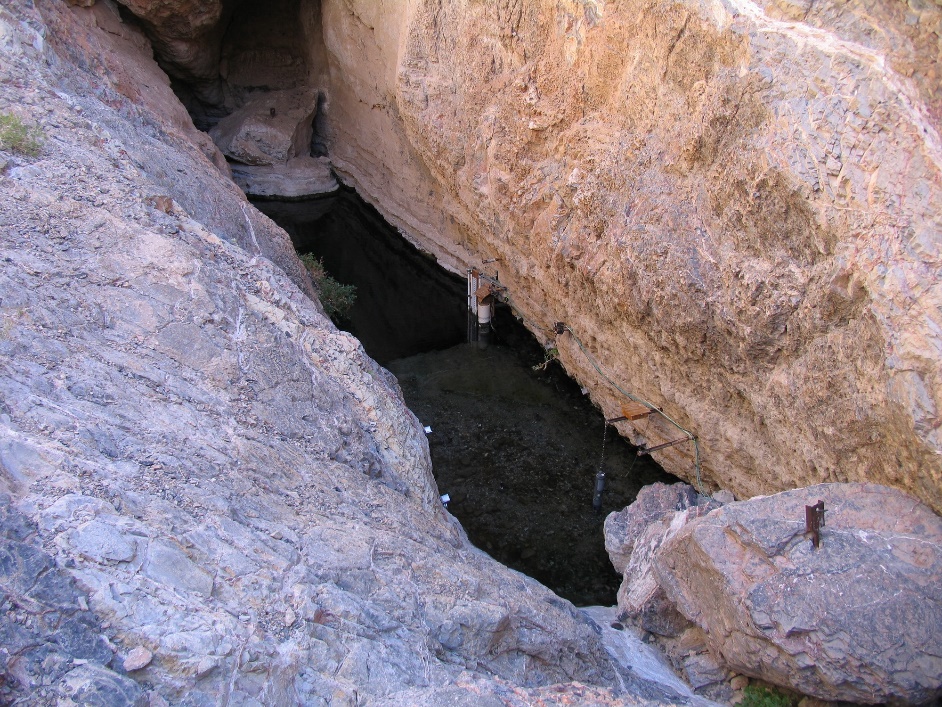 The 18-foot long shallow shelf that provides vital habitat for the Devils Hole pupfish.
NPS photo
DEATH VALLEY, CA
– The U.S. Attorney's Office is making progress prosecuting men accused of harming an endangered species and vandalism of government equipment at Devils Hole, a unit of Death Valley National Park. Edgar Reyes of North Las Vegas and Steven Schwinkendorf of Pahrump pleaded guilty to destruction of government property for their actions at Devils Hole on April 30, 2016. They discharged a firearm and damaged government equipment, including locks, the security system, scientific monitoring equipment, and several signs. They men agreed to pay $5,622.83 in restitution and face a potential maximum penalty of up to one year in prison and/or a fine of $100,000 for this charge.
Devils Hole is the only natural habitat of the critically endangered Devils Hole pupfish (Cyprinodon diabolis). There were only 115 pupfish in Devils Hole in the most recent survey. A six-foot by eighteen-foot shallow sunlit shelf provides most of the fish's food and is the only place they lay eggs. This is considered the smallest natural habitat of any vertebrate species on the planet.
Both men went down to the water surface. Reyes put his hand in the water and Schwinkendorf vomited near the pool. Both men pleaded guilty to violating the Endangered Species Act, which carries a potential maximum penalty of up to one year in prison and/or a fine of up to $50,000. Reyes and Schwinkendorf are scheduled for sentencing on February 14 and 15.
A third man, Trenton Sargent of Indian Springs, is charged with destruction of government property, violating the Endangered Species Act, a felon in possession of ammunition, and a felon in possession of a firearm. He allegedly waded through the shallow shelf.
Security video footage of can be viewed at
https://www.youtube.com/watch?v=JzEORQtO-xo
. Investigators thank members of the public that called in tips.