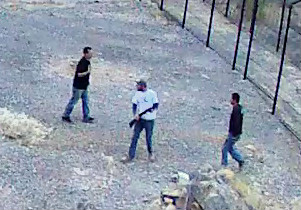 Three men inside the fence at Devils Hole.
NPS security camera
LAS VEGAS, Nev. – An Indian Springs, Nevada, man who rammed his ATV into a gate securing the Devils Hole area, destroyed a surveillance camera and equipment, then harmed pupfish, an endangered species, pleaded guilty today in federal court, announced U.S. Attorney Dayle Elieson for the District of Nevada and Superintendent Mike Reynolds for Death Valley National Park.
Trenton Sargent, 28, pleaded guilty before U.S. District Judge Andrew P. Gordon to one count of violation of the Endangered Species Act, one count of destruction of United States property, and one count of felon in possession of a firearm. Sentencing is scheduled for October 25, 2018. The maximum penalty for Endangered Species Act, a criminal misdemeanor, is up to one year in prison and up to a $50,000 fine. The maximum penalty for destroying United States property and being a felon in possession of a firearm, both felonies, is up to ten years in prison and up to a $250,000 fine per count.
Devils Hole, a detached unit of Death Valley National Park, is located in Amargosa Valley, Nevada, within a 40-acre parcel of National Park Service land surrounded by the Ash Meadows National Wildlife Refuge. Devils Hole is the only location in the world where Devils Hole pupfish exist in the wild. They are the descendants of fish that inhabit an ancient lake that once covered Death Valley. The pupfish is a Nevada state and federally listed endangered species. The Endangered Species Act was enacted to provide a program for the conservation of endangered and threatened species. In the spring of 2016, Devils Hole contained just 115 observable pupfish.
According to court documents, Sargent admitted, that on April 30, 2016, he and two co-defendants rammed the fence surrounding Devils Hole with their ATV, severely damaging the gate. Then, Sargent, a felon prohibited from possessing firearms, fired a Mossbert 500 shotgun at the padlock on the gate, attempting to gain access. After their attempts were unsuccessful, the men scaled the fence. Once in the enclosed area, they destroyed a sensor center for cameras and equipment for the area, and destroyed a video surveillance camera belonging to the National Park Service.
Then, Sargent went into the water. By stepping onto the Devils Hole shallow shelf, he smashed pupfish eggs and larvae pupfish during the peak spawning season for pupfish, who lay their eggs on the shallow shelf.
Two other men, Edgar Reyes, 37, of North Las Vegas, and Steven Schwinkendorf, 31, of Pahrump, who were with Sargent at Devils Hole during the time of the crimes, previously pleaded guilty to destruction of government property and violation of the Endangered Species Act. They were each sentenced to one year probation.
The investigation was conducted by the National Park Service, the U.S. Fish and Wildlife Service, and the Nye County Sheriff's Office. The case is being prosecuted by Assistant U.S. Attorney Tony Lopez.
To report a suspicious or criminal activity in a national park site, call the National Park Service tip line at 1-888-653-0009. For more information on the Department of Justice's wildlife protection efforts, visit
https://www.justice.gov/enrd
.