Note the name on the map for Lake Tahoe. Wikipedia claims name persisted until as late as 1945.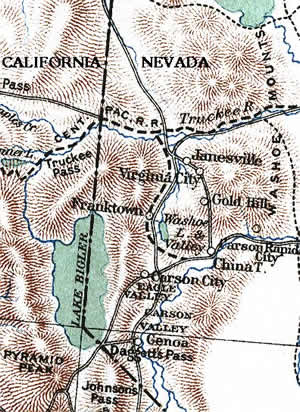 http://www.thepress.net/pages/full_story/push?article-How+Lake+Tahoe+got+its+name%20&id=3140630-How+Lake+Tahoe+got+its+name&instance=left_column
Lake Tahoe would be known today as Bigler Lake if not for the efforts of Brentwood-area resident Robert Garwood Dean........... Dean led the effort to change the lake's name because of the pro-slavery, pro-Southern posture of its original namesake, Gov. John Bigler.
---
The cure for a fallacious argument is a better argument, not the suppression of ideas.
-- Carl Sagan
Edited 1 time(s). Last edit at 09/05/2009 08:17PM by Frank Furter.