Tuolumne Meadows Winter Conditions Update
February 24, 2010
Weather: (Feb. 18-Feb. 24)
High temperature: 46°F (Feb. 18)
Low temperature: -3°F (Feb. 22)
New snow: 31 in.
Total settled snow depth: 61 in. (Feb. 24)
Ski Conditions and Weather:
This past week we saw an end to our high pressure as a series of storms came over Tuolumne Meadows. They started as small disturbances and continued to grow in intensity. Last night through this morning, we saw 17 inches in just over 12 hours, with blizzard conditions continuing throughout the day. Monday afternoon we noticed a large slab avalanche had released from the west side of Johnson Peak and we saw point releases on Dana Chutes. We have had high winds from both the west and east causing snow loading. We currently have very unstable snow conditions, large amounts of snow on top of a hard crust that formed during the previous two weeks of warm temperatures and sunny days. We advise not traveling in the backcountry until this series of storms is over. The weather service is forecasting more storms throughout the weekend.
Avalanche and Snowpack Conditions:
For the latest avalanche advisory for this area go to
http://www.esavalanche.org
for the Eastern Sierra Avalanche Center and click on advisory. The ESAC site is updated several times per week and more often during weather events.
Wildlife:
We saw our usual Coyote, Pine Marten, Weasel, Chickaree, White-tailed Jack Rabbit, and many tiny rodent tracks. Birds seen and heard this week include the Mountain Chickadee, Red Breasted Nuthatch, Brown Creeper, Clark's Nutcracker, and Red Crossbills.
Questions: We have no land lines or cell tower operating and the power is still out. Sorry for the inconvenience.
--Jeff and Kathi, Tuolumne Meadows winter rangers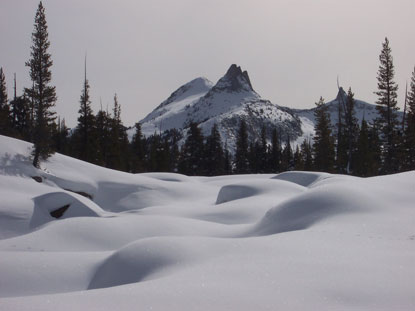 The Tuolumne River below Tuolumne Meadows lies buried under the deep winter snows, late February, 2010.