Last Update: April 29, 2011
Tioga Road: Snow removal operations are nearing the first avalanche zones at South Fork. Avalanche rescue training was performed near Gin Flat. Avalanche crews spent the week blasting and spreading charcoal at Olmsted Point to help reduce the snow above the road. Caltrans is working 120 west from Lee Vining to the park entrance at Tioga Pass.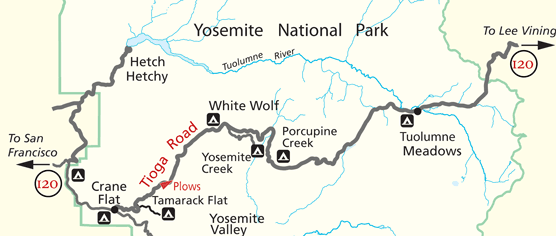 NPS Map
Glacier Point Road: Deep snow, 8-12 feet, still describes the work week. Two dozers worked all week pushing multiple lifts of snow off to the sides of the road so the rotaries can then blow the rest up and out of the roadway. The dozers are east of Bridalveil Creek Campground with the rotaries not far behind.