The trip was from 8/7-8/13
I had a great time on this trip. I want to thank again everyone that contributed information, ideas and suggestions. My brother in law couldn't go so it was a week long solo trip. It was still pretty cold overnight up in the 9000ft area. I have a single wall tent that usually has lots of moisture inside. Two nights I found ice on the tent wall instead. I hiked up from the Cathedral Lakes trail head and camped at upper Cathedral Lakes. This is a very nice lake and I had the company of three other hikers. We were visited by some deer that evening and the next morning. I had my head net and plenty of deet. The mosquitoes weren't too bad for me, but I heard lots of complaints between the lake and Sunrise HSC.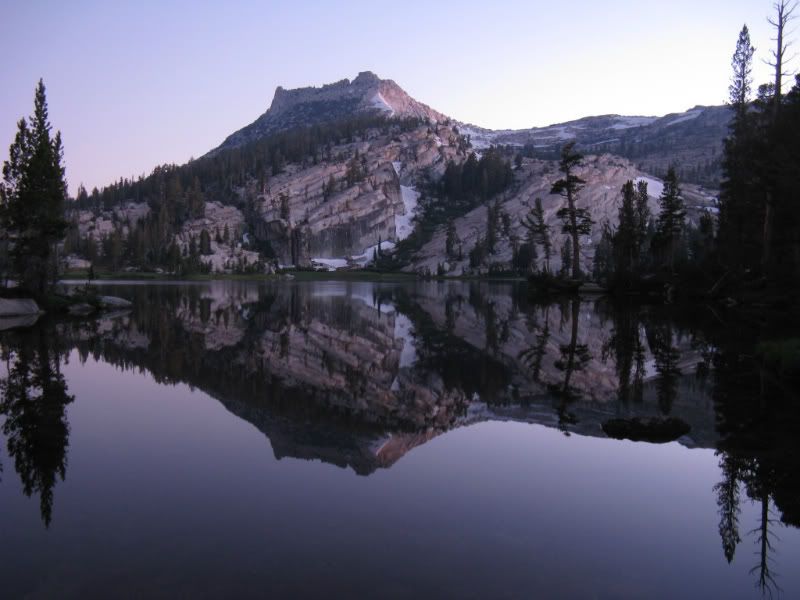 The next night I stayed at Sunrise HSC. The conditions for mosquitoes were about the same. The crew was hard at work setting up the HSC. I don't mind the noise of the work they were doing, but I wish they understood that they are sharing an area with people that are out trying to enjoy the solitude, peace and quiet. It seems reasonable that if they want to come up there to make money, they can do their work in a respectful way and avoid unnecessary noise. At least one of them seemed to think it was necessary to whoop and holler about nothing or belt out his rendition of some song I never heard of.
I moved on towards Clouds Rest the next day. I was glad to have chick-on's guide to water on the trail. After passing Sunrise lakes and the junction towards Tenaya Lake I was headed up towards Clouds Rest. I saw the waypoint I had for water ahead. The area clearly showed signs of water with lots of lush plants. However I saw nor heard any water. I was thinking that chick-on had missed it on this one. Lots of water, just not year round. Then I came around a bit of a corner and my view opened up and this was the view... This was not on any of my maps. Lesson learned! Never doubt a 100% chick-on guarantee.
I camped that night a little past the next trail junction. It looked like there were some nice views, but the smoke was too thick. The next morning the smoke was not as bad. It was really slow going hauling the full pack up to Clouds Rest. Between lots and lots of breaks and just plain determination, I made it to the bypass junction. There was no way I was going to try taking my pack up top, so I left it there. A few minutes later I was enjoying the fantastic view.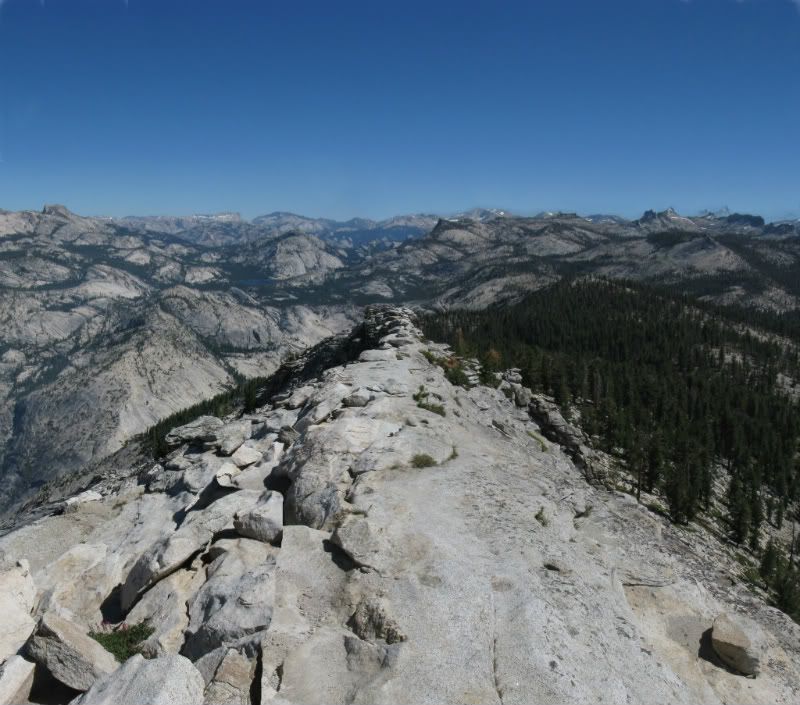 As time went on the smoke grew worse.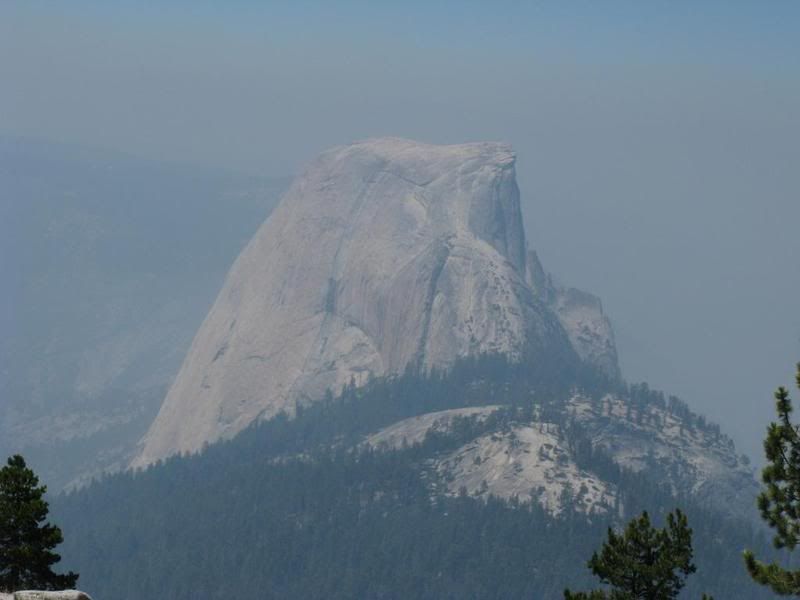 From there I headed down to Sunrise Creek, about a 1/2 mile above the junction to Half Dome. There is lots of room to camp and water nearby. It was a great spot to camp and hike to Half Dome. I got an early start and passed by the "Sunrise shift" coming down the trail as I neared the sub-dome. I was glad I had left everything heavy back in camp. The climb up to the cables was harder and probably more dangerous than the cables themselves. It took me about 40 minutes to climb the cables. Now that I have climbed it, I would say that a harness is not absolutely needed. I had no near death experiences. It was not a maximum effort to get to the top safely. With that said, if I was to ever climb again I would probably use the harness anyway. The same as I always wear a seat belt and bicycle helmet. Better safe than sorry. It was not a big problem to use, but I am sure it did slow me a little. With the light crowds it was not a problem.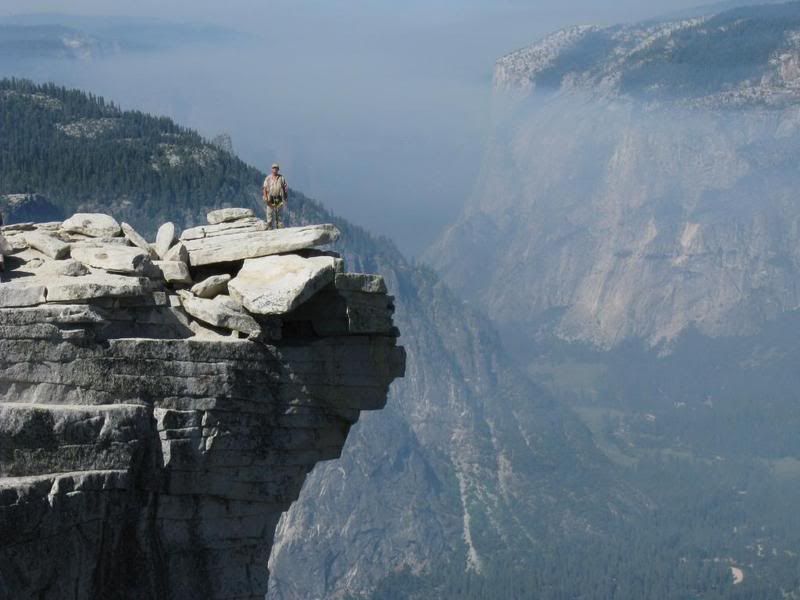 I camped again at Sunrise Creek and headed for the Valley the next morning. I avoided the Mist trail thinking I was safer on the JMT. I suppose the JMT is safer since you aren't going to end up in the river if you slip. That being said, I don't know which is better, wet slippery rock or dry slippery sand on rock. Many times I was glad to have my walking sticks as I planted my foot only to have it slide.
It was a great trip and Clouds Rest was impressive indeed. Half Dome is such an Icon of Yosemite I was glad to have my photo taken while I was on top. I will enjoy it always.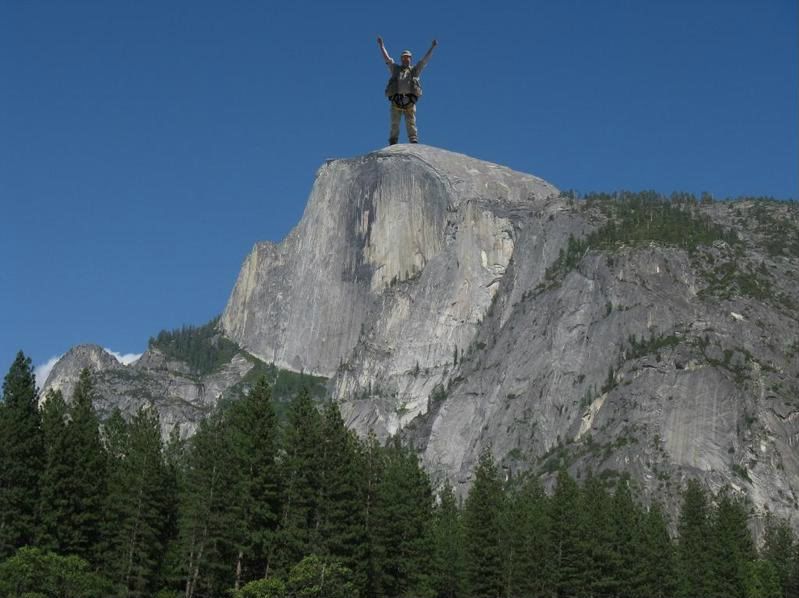 Edited 1 time(s). Last edit at 08/16/2011 08:44PM by traildad.