So I have wanted to get up over Tioga Pass to Tuolumne Meadows in the winter for a while now. I put a cache up there and have been looking for the right combination of weather and availability to go with a friend. Last weekend was a strong possibility, but my buddie just couldn't squeeze out the time. What to do? Contact the bird...Chick-on's usually up for a little weekend trip, as if you haven't noticed. We met up early Friday morning at Mike's place (thanks for the french toast, Mike!) and were on the trail at Happy Isles about 10 or so, with the plan to head up towards Clouds Rest and see where our legs and the conditions might take us from there. With the exception of a the icy sections on the way up to Nevada Falls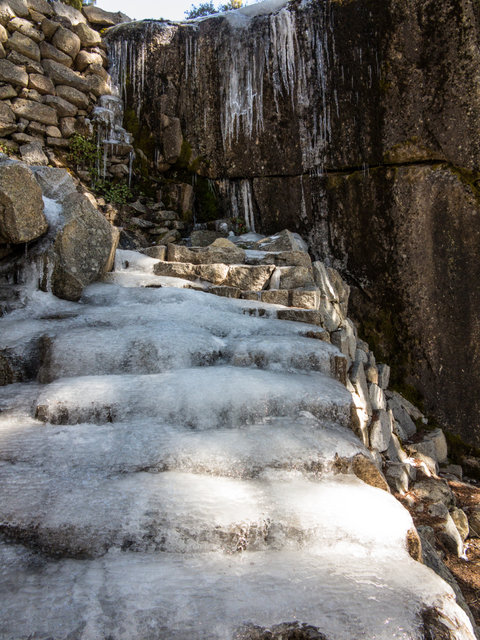 where the microspikes were definitely needed, we were just plain old hiking up through Little Yosemite Valley, past the quarter domes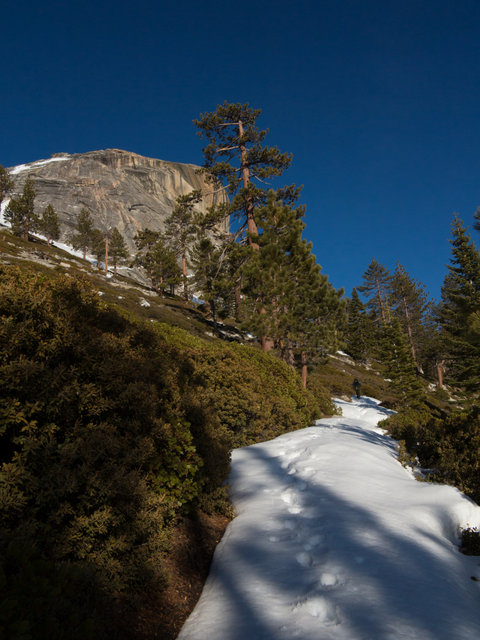 and were probably near about 9000 feet before we finally put on the snowshoes for the push to the summit of Clouds Rest, hoping to make it before sunset. The scramble up the summit block, wearing backpacks and snowshoes, through steep snow, rock, and fading light, exhausted after 6000 feet of vertical, was, well, interesting, and, as usual, the Bird led the way and took (likely embarrassing) photos of me from above clinging for dear life. Anyway, we made the top just after the sun went down and set up camp with great views all around and, fortunately, not much breeze. Here's a shot taken by the light of the almost full moon, with Half Dome and the valley lights to the right and below the tent.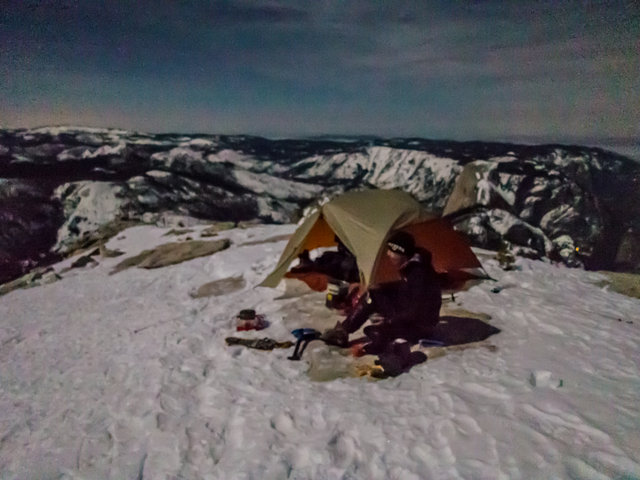 The clouds came in that night, and we had limited visibility in the morning. But feeling good, we decided to make continue the loop and head northeast towards the Sunrise Lakes area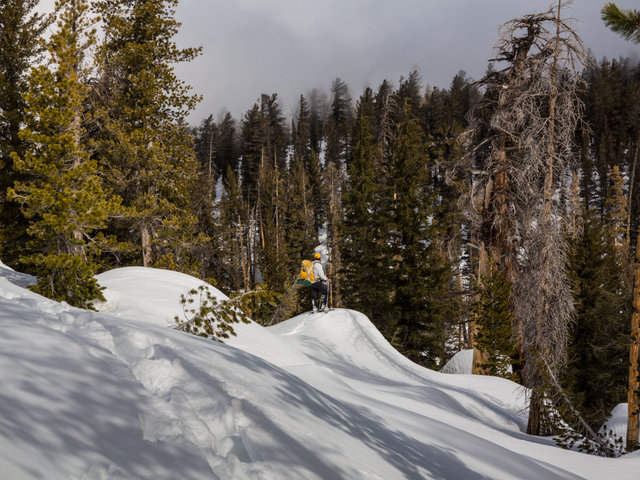 and then head down the Sunrise Trail towards Tenaya and highway 120. There was much more snow on this less exposed part of the trip, and the snowshoes were on all day. Cutting over to the highway we had a bit of a challenge finding a safe place to cross Tenaya Creek, but after a bit of searching found a good spot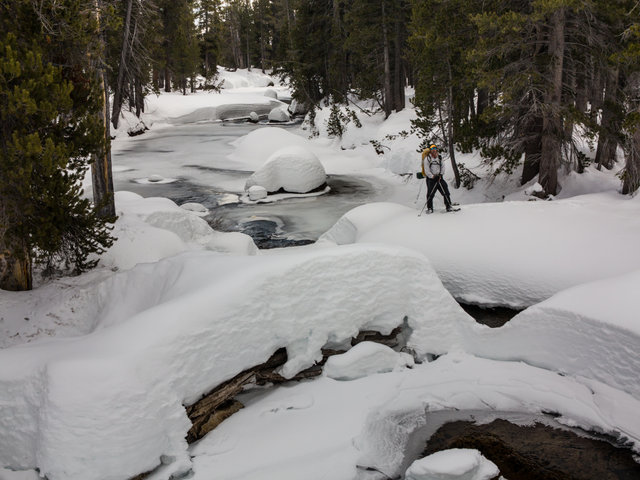 And then it was quickly up to the highway. Question...when you hit the highway in winter time do you leave the wilderness?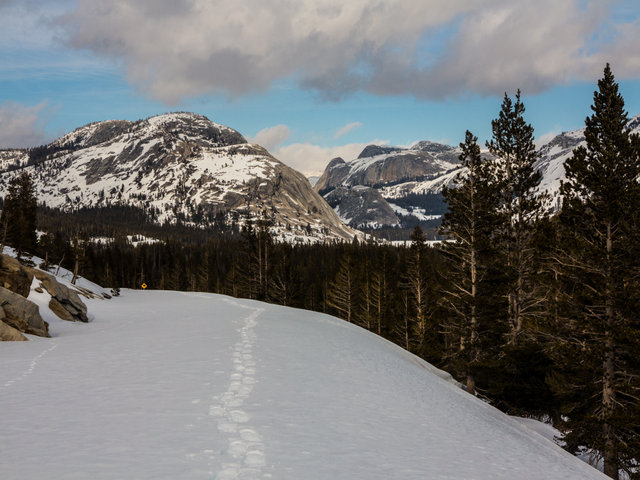 We were comfortable going through the avy zone with the snow conditions; in a usual winter we probably would not have gotten onto the road until we had passed that area. We continued up to the quarry, hung a left and (my) legs were pretty much done at the last saddle before Mt Watkins, where we set up camp as the skies started to clear and had nice views of the moon rising over Tenaya Canyon.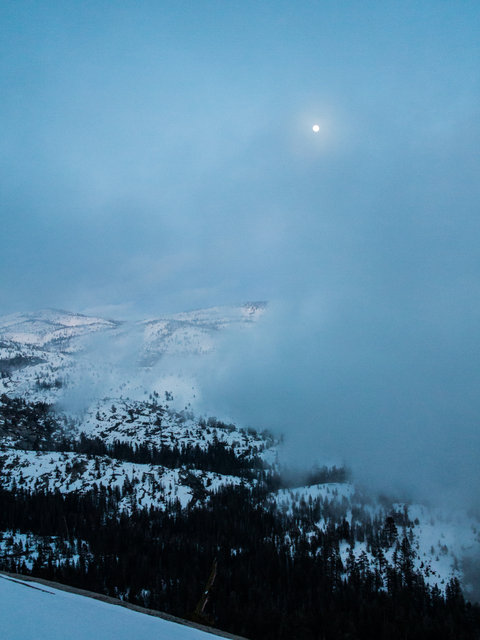 It got more than a little breezy Saturday night, but we survived, and Sunday dawned clear and cold. Up Mt Watkins, down in the direction of Half Dome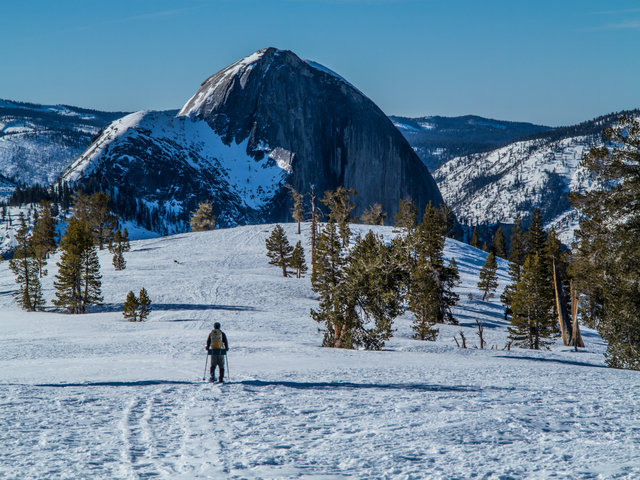 And then down a gully, skirting back towards the cabin and then down to Snow Creek and the 108 switchbacks down to the Valley.
I am still itching to get to Tuolumne, and thanks to Bee's recent posting of Moosetrack's recent trip there
Moosetracks
my resolve to get there this year is that much stronger. Hopefully it happens!