Plows reached Tioga Pass on Tuesday, April 22, while a few inches of new snow was falling. However, more plowing is needed to widen the plowed portion of road, plow side roads and parking lots, and peel ice from sections of the road near Tuolumne Meadows. Additional ditching and tree work may also be required. The weather forecast calls for snow Thursday night through Sunday night.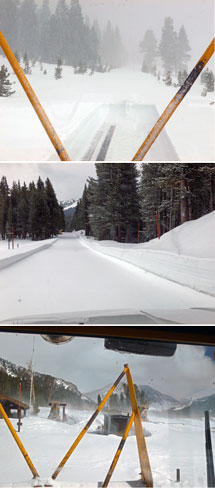 Tioga Road plowing between Tuolumne Meadows and Tioga Pass, April 22, 2014.
Edited 2 time(s). Last edit at 04/23/2014 12:48PM by eeek.