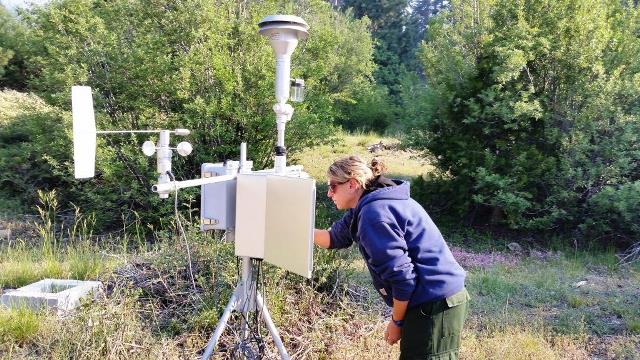 Ariane Sarzotti works with a portable particulate monitoring station known as an E-BAM to measure impacts from smoke caused by area fires.
NPS / Mike Theune
HUME LAKE RANGER DISTRICT &KINGS CANYON NATIONAL PARK, Calif. August 4, 2015 – With multiple fires currently burning in the southern Sierra Nevada, state and federal agencies are working together to monitor and address smoke from local fires.
Staff from the National Park Service and U.S. Forest Service have observed smoke from the Rough Fire traveling into the Kings Canyon drainage impacting Hume Lake in Sequoia National Forest and Giant Sequoia National Monument as well as Grant Grove and Cedar Grove in Kings Canyon National Parks. Air quality is of paramount importance for both local residents and visitors alike. The Sequoia National Forest, Giant Sequoia National Monument, and Sequoia & Kings Canyon National Parks are working very closely with the San Joaquin Valley Air Pollution Control District to add additional air quality monitoring stations in populated and high visitation areas to further monitor smoke impacts.
Updates on the Rough Fire, as they become available, will be posted to the California Smoke Blog by visiting
http://californiasmokeinfo.blogspot.com/
. Air quality updates from other fires in California will be posted to the blog as well, so visitors may have to scroll down to see the most recent report.
While visiting or planning their trip to the area, visitors can also visit the National Park Service's Air Quality Information page at
http://go.nps.gov/sekiair
for forecasts and advisories in the park.
Information on how to limit your exposure to smoke can be found on the San Joaquin Valley Air Pollution Control District's website at
http://valleyair.org/wildfires.htm
.
Additionally, as part of firefighting efforts, fire personnel are getting water from Hume Lake, located in the Giant Sequoia National Monument, to help with suppression efforts on the Rough Fire. Helicopters are retrieving buckets of water as needed out of the lake. Visitors recreating around the shores of Hume Lake are advised to be aware of this activity. Firefighters will be present at Hume Lake to manage this operation.