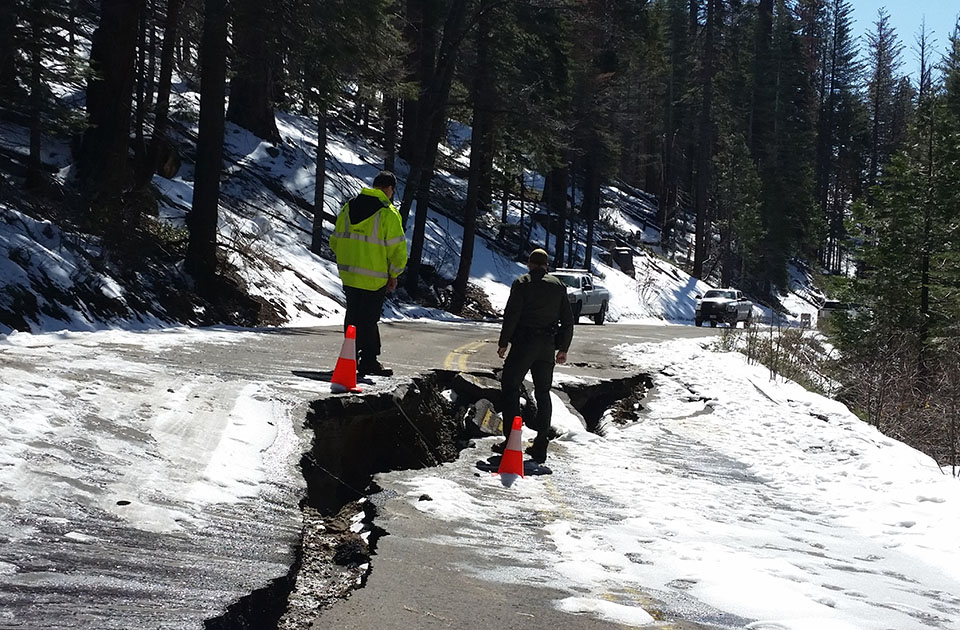 NPS Photo
Highway 140 remains only access to Yosemite Valley
Yosemite National Park is moving forward with repairs to the damaged Big Oak Flat Road (Highway 120 West) leading to Yosemite Valley. Severe storms have impacted the road and it continues to be unsafe for vehicular travel, and has been closed since late February. The Federal Highways Administration has selected a contractor to repair the road. Work is expected to begin next week. Significant rain and snow this winter has saturated the soils, resulting in movement under the road bed. This soil movement has caused a large fissure to form in the roadway that has resulted in both lanes of traffic being unsafe for vehicles. Soils under the road continue to move, causing further damage. Over 100 feet of road, near the Big Meadow Overlook, has been impacted by this fissure. There is no estimated date for the road to reopen.
"We fully understand that this is a major impact to park visitors and businesses along the highway corridor," stated Yosemite National Park Acting Superintendent Woody Smeck. "We are working as quickly as we can to get the road reopened safely."
Visitors are still able to visit Yosemite National Park via the Big Oak Flat entrance. Crane Flat and the Merced and Tuolumne Groves of Giant Sequoias are accessible and open. The park has waived the entrance fee for visitors entering the park via Highway 120.
The Wawona Road (Highway 41) is currently open within Yosemite National Park. However, visitors traveling to the park from the south will not be able to access Yosemite National Park, on Highway 41, due to road damage on the highway in Fish Camp, just south of the park's entrance. Caltrans is working on road repairs. Please check with Caltrans for current road conditions.
http://www.dot.ca.gov/
Highway 140 (El Portal Road) remains open and clear for all vehicular traffic and is the only access to Yosemite Valley, the Yosemite Ski and Snowboard Area, and Wawona. Visitors traveling on this road are urged to drive slowly and be aware of rocks and debris on the road.
For updated 24-hour road and weather conditions for Yosemite National Park, please call 209-372-0200 and press 1.