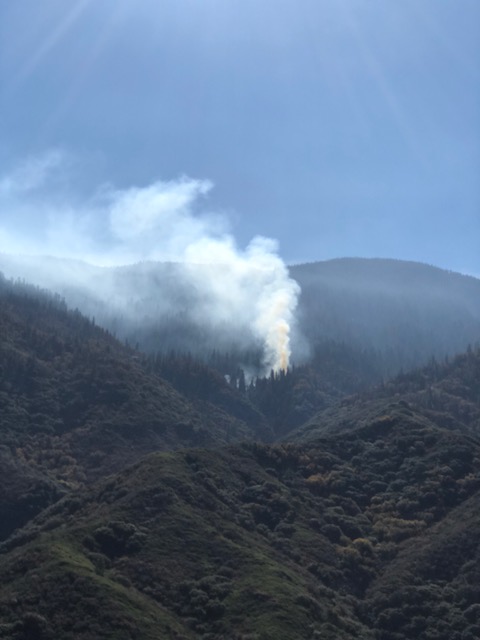 The five acre Eden Fire as seen from the Mineral King Road approximately 1-mile east of Lookout Point.
NPS JZiegler
SEQUOIA NATIONAL PARK, Calif. November 1, 2018
– The Eden Fire, located in Eden Creek Grove of giant sequoias, south of Mineral King Road is now estimated to be approximately 5 acres. This lightning-caused fire started on October 4, 2018 during a series of thunderstorms that came through the area the first week of October. While smoke may be visible from the Mineral King Road and other higher points in the Three Rivers Area, the fire is burning in the steep and rugged terrain of the John Krebs Wilderness and poses no threats to life or property at this time. As such, firefighters are not suppressing the fire with any direct or indirect actions, doing so would have more of a negative impact on the wilderness than the fire itself.
Giant sequoia groves have adapted for thousands of years to fire and the Eden Creek Grove has no modern recorded fire history. Managing small fires late in the year like this allows for the reduction of large unsustainable fuel loads created by over a century of fire exclusion on public lands.
"Going into an area with no modern fire history makes fighting unwanted fires harder and more dangerous during hot and dry summer months," said John Ziegler, parks' fire management officer. "We need to take advantage of opportunities like this during the cooler and wetter fall months."
Additionally, there are no impacts to any visitor services in the Mineral King section of Sequoia National Park. The Mineral King Road closed to the public for 2018 on Wednesday, October 31.
Additional news releases will be issued as conditions change.