Tuolumne Meadows Winter Conditions Update for February 13. 2020
New snow: 1 inch
Total settled snow depth: 27 inches (at 8,600 feet)
High temperature: 53°F (February 7)
Low temperature: 11°F (February 8)
Ski Conditions and Weather
It was a warm and dry week in the central Sierra. A weather disturbance came through over the weekend, but only left three feet of wind and one inch of snow in its wake. The ski conditions are variable out there presently depending on aspect and elevation. It has been a prolonged dry period which means that the snow surface has been shaped by wind, sun, and temperature. The higher elevations have been hammered by high winds repeatedly this winter leaving windward slopes scoured of all snow, and leeward slopes sculpted by upslope winds. There are plenty of breakable crusts out there that could be considered "tough sledding." And there are plenty of firm and barely ski edgeable areas in between.
Below the tree line at the mid-elevations there is a more uniform snowpack with two to four feet of snow on the ground. North facing drainages and gullies are still holding some soft snow but south facing slopes are becoming patchier. The warm days are slowly transforming the snow surface into more of a spring like one. The more melt freeze cycles the snow goes through the better the skiing will become.
The Tioga Road is 100% snow covered from Ellery Dam westward through the park.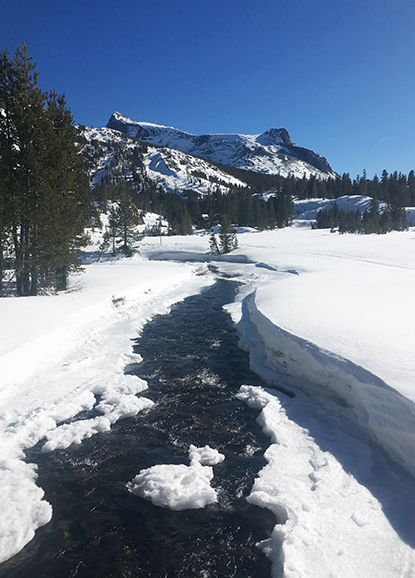 Lee Vining Creek and Mt. Dana on February 12, 2020.
Avalanche and Snowpack Conditions
Please refer to the
Eastern Sierra Avalanche Center
(ESAC) for the avalanche advisory for this part of the Sierra Nevada.
Presently the avalanche hazard in the Tuolumne Meadows area is low. There is plenty of faceted, non-cohesive snow lurking under the snow surface, but absent a slab or new snow load, it poses no threat to winter travelers. The real hazard these days in the alpine zone is hard snow conditions and the potential for a "slide for life" if one were to fall. Ice axe and crampons are recommended.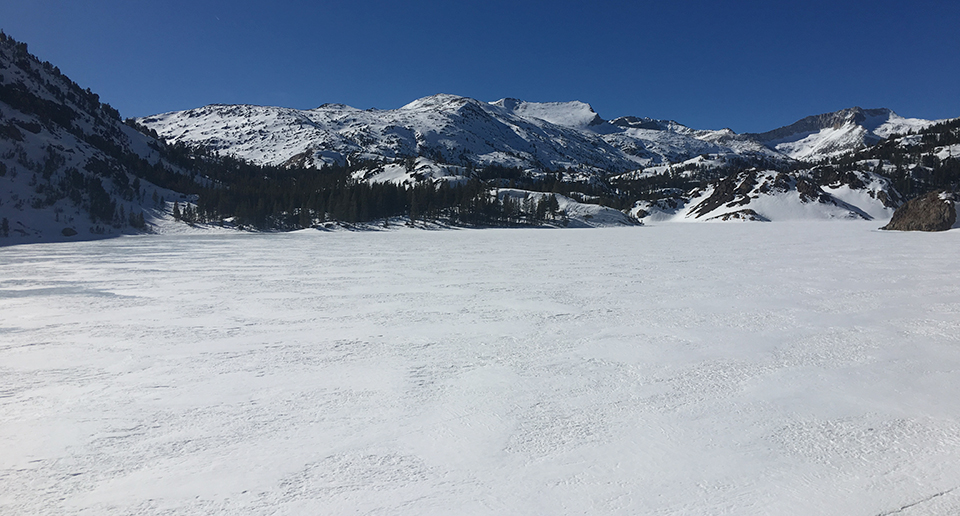 Looking to the Tioga high country from Ellery Lake on February 12, 2020.
Wildlife
Our furred and feathered neighbors have been enjoying the sunshine on nearby south facing slopes. Snowshoe hares have become a little more "visible" these days when nibbling on the exposed grasses as they hop between patches of snow. A flock of male and female red crossbills were seen congregating on a recently exposed metamorphic boulder. These fringillids are known to get their salts and minerals from such rocks and other natural "salt licks."
General Information
The Tuolumne Meadows Ski Hut is open. There is firewood and 10 bunks that are available on a first-come, first-served basis.
For those visiting the Tuolumne Meadows Ski Hut from the east (only) permits are self-issued at the Ski Hut. For those entering from other areas, please see Yosemite's website:
https://www.nps.gov/yose/planyourvisit/wildpermits.htm
(#3: Do I need a wilderness permit during winter?) or you may contact the wilderness office at 209/372-0740. There is no phone service in Tuolumne Meadows. We can be contacted regarding winter travel to Tuolumne Meadows via email, but we may be delayed in responding if we are on patrol.
Come prepared, and please make good decisions while traveling in the wilderness!
Happy Touring!
Rob and Laura Pilewski - Tuolumne Meadows Winter Rangers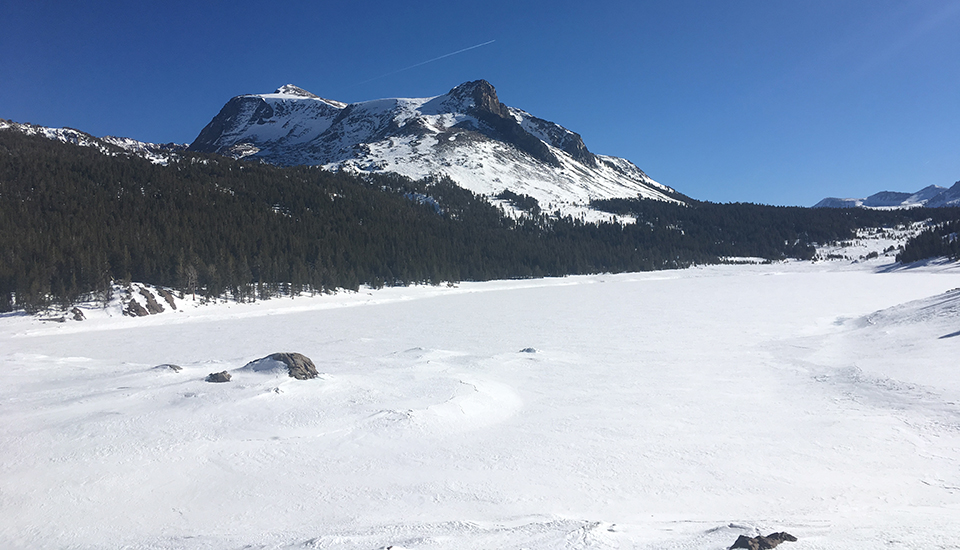 Tioga Lake and Mt. Dana on February 12, 2020.