Tuolumne Meadows Winter Conditions Update for January 20, 2021
Update for January 20, 2021
January 30, 2021 Posted by: Laura and Rob Pilewski
New snow: Trace
Total settled snow depth: 17 inches (at 8,600 feet)
High temperature: 59°F (January 15)
Low temperature: 10°F (January 19)
Ski Conditions and Weather
The wind storm is over! Mono winds can reach speeds of 50 to over 100 mph. According to the National Weather Service, they are localized winds that typically start east of the central Sierra often near Mono Lake and then travel up and over the mountains to the western foothills gaining speed as they descend, especially once they hit funneling terrain features (like canyons). Weather nerds know them as katabatic, meaning to travel downhill. The Mono Winds are colder and more humid than the Santa Ana Winds but both typically occur between October and April. This week was quite reminiscent of our first winter season when we were welcomed with a sparse snowpack and our first Mono wind storm. That one, which occurred the evening of November 30, 2011 to December 1, 2011, left over
400,000 downed trees
in its wake. At the time of this writing, damage is still being assessed and Yosemite National Park remains closed. But, a change in weather is in the air and snow is in the forecast.
The warm temperatures, followed by the high winds, have left a mixed bag of snow surfaces out there. Textured, refrozen, and now littered with debris (pine needles, cones, etc.), even a ski optimist would have a hard time saying anything good about the present conditions. Coverage is still decent and touring opportunities exist in drainages and meadows above 8,600 feet.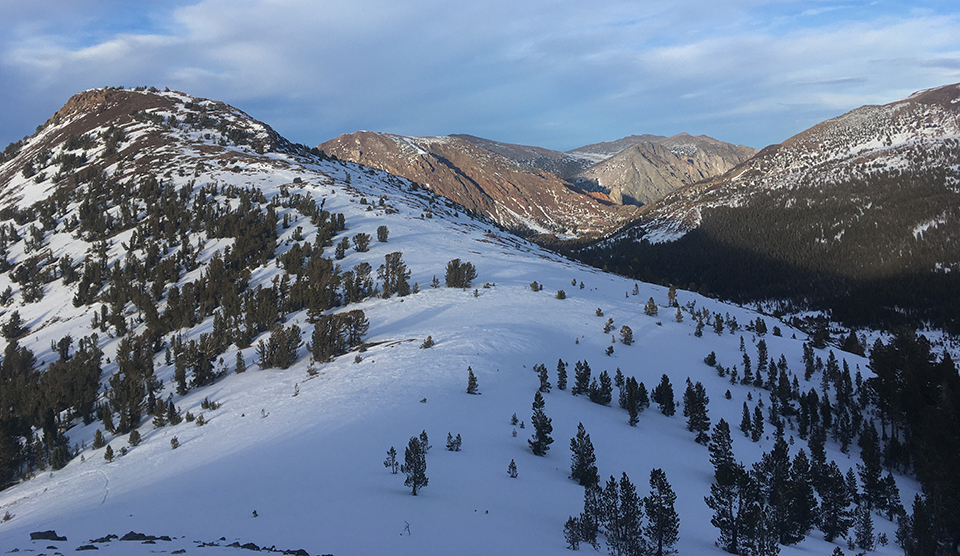 Mt. Gaylor and a dry eastern Sierra on January 15, 2021.
Avalanche and Snowpack Conditions
Please refer to the
Eastern Sierra Avalanche Center
(ESAC) for the avalanche advisory for this part of the Sierra Nevada. There are online educational opportunities on the site too. The most recent was "Introduction to Backcountry Travel-Back to the Basics," and is excellent.
The avalanche hazard in the Tuolumne Meadows area is low. The primary hazard out there now is the many obstacles that lurk on or below the surface. Now is a good time to get out and cross-country ski and leave the downhill skiing for a time when the snow is deeper.

Left photo shows Mt. Dana and Mt. Gibbs on Jan. 15, 2021. Right photo shows Dana Meadows from the slopes of Mt. Dana on January 16, 2021.
Wildlife
The American robins have been out and about in rather large numbers congregating peacefully among the western junipers of Lembert Dome. We also saw a few red-breasted nuthatches and brown creepers out looking for insects during the warm spell. And a great horned owl hooted in the distance one calm, quiet evening.
General Information
The Tuolumne Meadows Ski Hut is closed for the 2020-2021 season.
Rob and Laura Pilewski – Tuolumne Meadows Winter Rangers

Left to right: The Cockscomb, Cathedral Peak, and Unicorn Peak on January 14, 2021.