May 16, 2017
Plows ended one mile west of May Lake. Crews are progressing from west to east about one mile per day as they plow through snow that is 8 to 10 feet deep. Forestry crews have begun removal of hazard trees (dead or diseased trees that might fall onto the road) between Crane Flat and White Wolf, and in the Crane Flat Campground.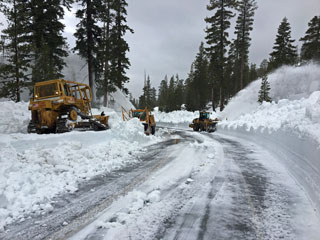 A dozer removes snow from the top down, allowing the rotary plows to blow the remaining snow.
NPS Photo
Edited 1 time(s). Last edit at 05/19/2017 01:46PM by eeek.